360 Photographer and VR Photography
360 Photography or sometimes call Virtual Reality (VR) is great for several use cases. From indoor virtual tours to outdoor wide open areas, 360 photography can enhance your media with user interaction and surround display. 360 photos provide the ability for the viewers to immerse themselves in the location of the photo.
360 photos or Panos are often even referred to as panoramas.
A photographer creates a series of photos by taking a series of full size HD photos in a circle, top, and bottom views. After stitching the photos together we form a complete panorama interactive render of the location. This stitching creates a special and interactive media giving the view a complete view of the 360 degrees surroundings.
How we do 360 photos
As a 360/VR Photographer a simple 360 photo is created with a series of 10 photos. A more complex 360 virtual tour could involve creating multiple photos and creating a unique 360 photo experience such as a walk-through or virtual tour. For full-on virtual tours or virtual tour photography we use a Matterport solution, more information about Matterport can be found on their website.
360 Photo Examples
Walkway in Somerville New Jersey.
Here is an example of a 360 photograph stitched together, this 360 render is a combination of 10 high-resolution full-size photos. We are able to also enhance and edit the images as needed for the specific intended purpose. Many times we add a logo or piece of information as a graphic on the bottom to replace where the tri pod is.
360 Interactive Photo
Fitness Facility in Flemington New Jersey
A great way to fully illustrate all the amenities of a room or location, again this 360 photography is a stitched-together render of 10 high definition full-size photos and a logo at the bottom.
This year has seen the release of many consumer 360 cameras that are designed to take immersive photographs. These cameras are very user-friendly and are usually low-cost, however, the quality performed by a DLSR and a 360 Stich is far superior to any click and go 360 camera.
360 Photography Uses: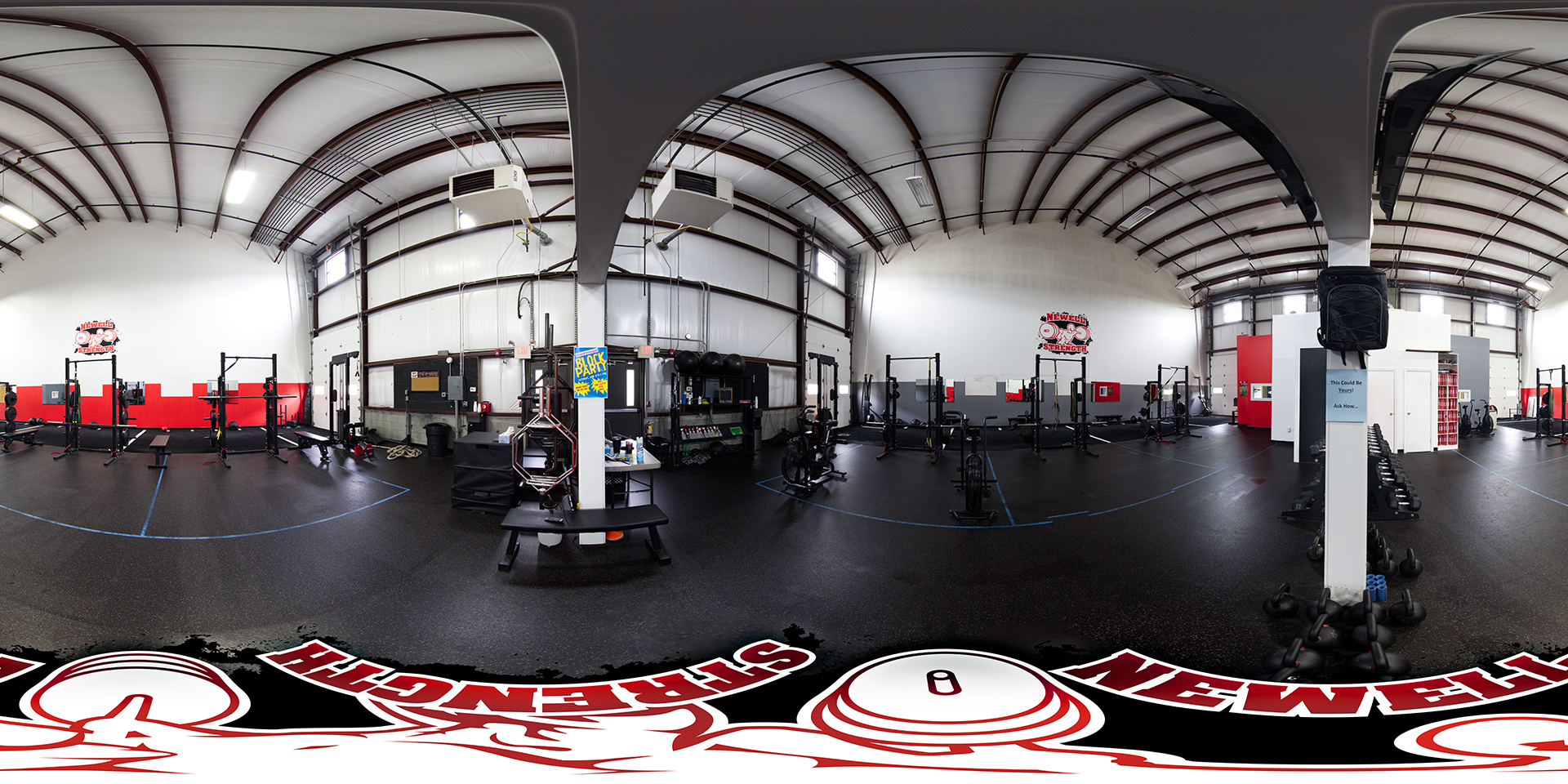 Raw Image file of a 360 image
Google virtual tour
A Google virtual tour is a simulation of your business that's attached to your Google Business listing. It uses the latest 360 and VR technology to provide a truly immersive experience.
Virtual tour
A 360 virtual tour is a collection of rotating images that combine to form a full, 360 degree view of a specific location. The images are brought together through special technology. The user can customize their view by clicking on the thumbnail or dragging and dropping them
Google street view
Google Street View is a feature that features interactive panoramas of streets in the world. The service was launched in 2007 in several US cities. Most of the images are taken by car, but some are done by various means, such as a boat, a snowmobile, and an underwater apparatus.
360 Photos for Product Photography
Another method of taking 360 photos is of the actual product with a 360 view around the product. We provide a full rotating view of the product that can automatically spin or spin with the user having control with a mouse-over arrow of the 360 image.
Professional Product Photographer
Drone 360 video footage
Yet another type of a 360 project is via our drone. A circle path around a location can be navigated from up above and provide yet another unique view of a location with the integration of 360 drone footage.